What a great historical building; a nice display piece for Rocklin. I ran sound at a vow renewal here recently and was really pleased with the facility. Also, the volunteers were knowledgeable and really accommodating. The event went well.
Bill Horbaly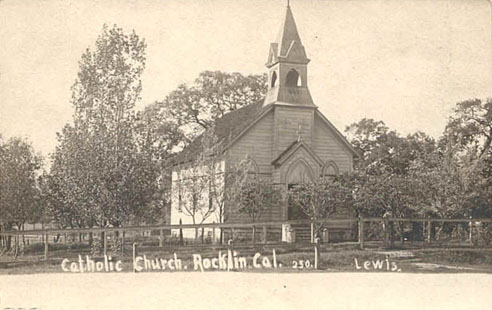 Old St. Mary's Chapel was built in 1883 as St. Mary's of the Assumption Catholic Church. It served as a Catholic church for 100 years till the congregation out grew it. Various religious organizations used it for services until 2004 when it was slated for demolition. The Rocklin Historical Society took possession in 2005 and moved it down Front Street to its new location. Dedicated volunteers then went to work to transform Rocklin's oldest building into the beautiful chapel you see today. Our first wedding was held in 2007 and now Old St. Mary's has become the site of many beautiful ceremonies.
Restoring the chapel also included rebuilding the steeple to its original look. In 1937, the steeple succumbed to woodpeckers and foul weather and thieves took the original bell. Today's bell is on loan from Rocklin's Community Covenant Church. At Old St. Mary's there is now a tradition that once a  couple is married they walk back down the aisle and stop to ring the bell, starting their new life together.
Why Old St. Mary's Chapel?
---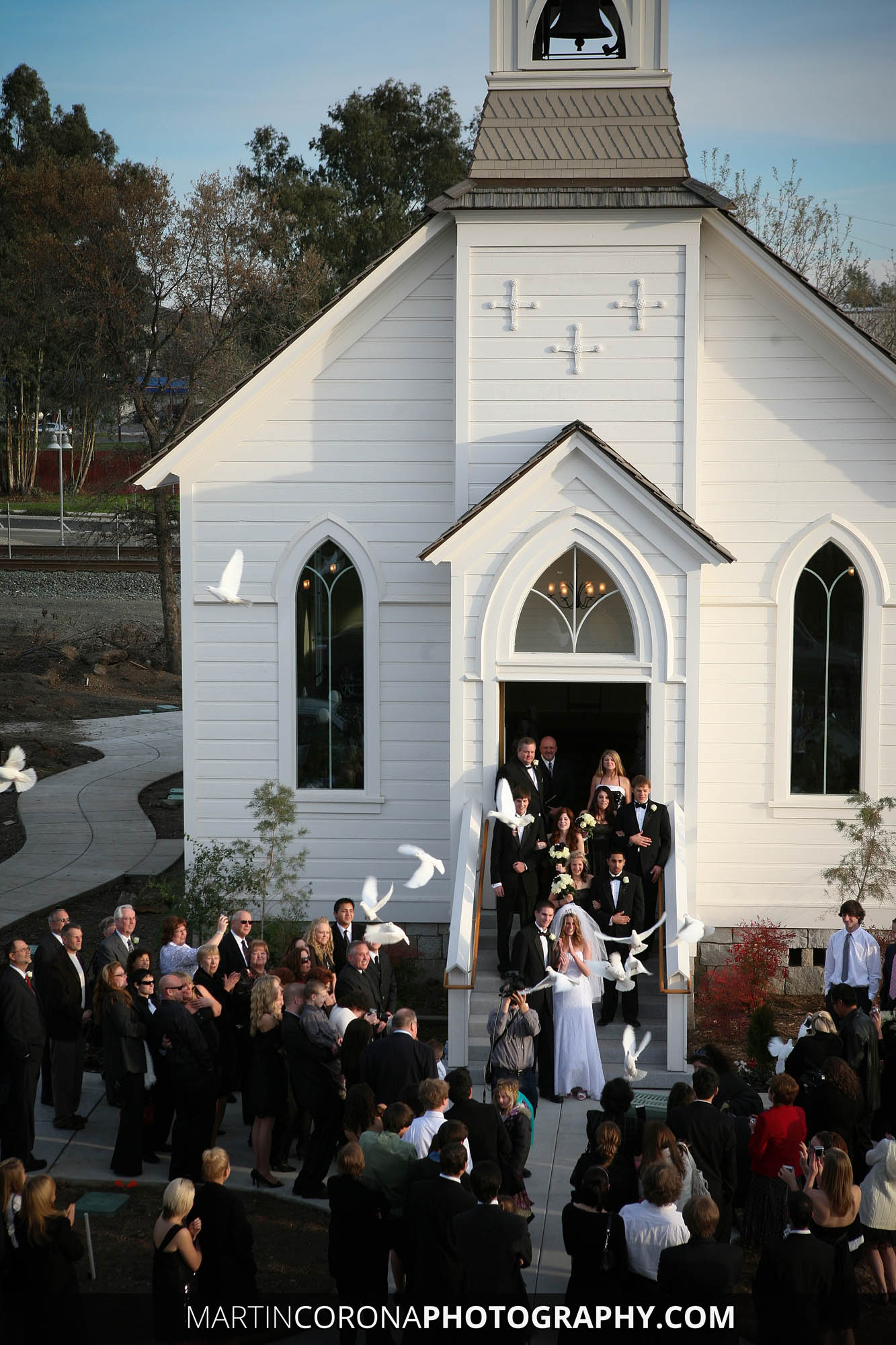 Old St. Mary's Chapel is the perfect spot for your special day. The beautifully restored chapel exudes peaceful charm. The tall arched windows allow in plenty of beautiful light for those important photos and the neutral décor lends itself to your personal touch.
Attached to the chapel is an annex room with a large bathroom perfect for getting ready for the special event. Leaving the annex by the side door you follow the path back to the front of the chapel for a grand entrance! The 135 year old historic building is located in old downtown Rocklin where it is conveniently located near various reception and rehearsal dinner sites.
With the Amtrak station located right next door, Old St. Mary's is the perfect spot for guests arriving from out of town. Several hotels are located close by. At the chapel, there is plenty of parking available for your guests. The beautifully landscaped patio with its unique fountain is the perfect spot for small receptions and beautiful wedding photos.
A replica of Rocklin's first firehouse is now complete giving another place to get ready for the big event.
Old St. Mary's Chapel is an historic building. You are welcome to bring a minister or officient of your choice.
About us
Historic & Unique
This is a historic community building that is non-denominational. People have worked tirelessly to restore and maintain Old St. Mary's original beauty.
Click here to read more >>>
Chapel Resources
Hybrid Bicycles
Contact Us
Questions & Appointments
Have questions? Would you like to tour Old St. Mary's Wedding Chapel?  Visit our open house on  Wednesdays from 5:00 to 7:00 p.m, or contact us for an appointment.
Contact us now >>>